Meet School Leader Daniel Söderberg who is developing teaching
together with his team at Allbo Learning Center
Allbo Learning Center is responsible for Alvesta municipality's upper secondary school and adult education. At Allbo, School Leader Daniel Söderberg, the School Principals and four of their expert teachers are creating a plan to systematically develop the quality of teaching. This is based on research and will be implemented with the help of BRAVOLesson. The purpose of this is that teachers can be observed, be able to see their own craft and be proud of their development. The plan will continue until the end of 2021 and teachers at the center will collaboratively develop their teaching together as part of everyday life.
Many municipalities in Sweden have for many years, focused on other levels of education. Now the Allbo Learning Center is putting greater focus on the quality of teaching for adults and upper secondary school students.
The plan for this term
HT 2019 – An introduction to the BRAVOLesson tool to be completed. All teachers will complete a self-assessment assignment using the Swedish School Inspection Authority's observation from.
VT 2020 – Beginning of focused observations exploring the start and end of lessons.
VT 2020 – School Principals and expert teachers to create a plan for how the project will continue until 2021.
Self-assessments and statistics
Allbo Learning Center has chosen to work with BRAVOLesson for various reasons. One is that the system is not restrictive and the most appropriate working method can be chosen. For instance, bespoke observation forms can be put into the system. BRAVOLesson automatically aggregates all data, which means you can see which dimensions of good teaching are the school's strengths and which are important development areas. This can be obtained from teacher self-evaluations, peer observations as well as observations by school leaders to give an overall picture.
"One of the reasons we have chosen BRAVOLesson is that we can work in a GDPR-secure way. Now, the information is in one place with the kind of security required instead of floating around on paper or in other IT solutions that we use for other purposes."
Daniel Söderberg, School Leader, Allbo Learning Centre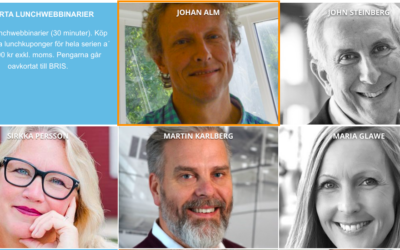 After part 1 of 8 in our series of 30 minutes lunch webinarsTheme: Equivalent leadership in all classrooms Watch the video below. As a participant at our webinars, you can listen and also ask...
read more