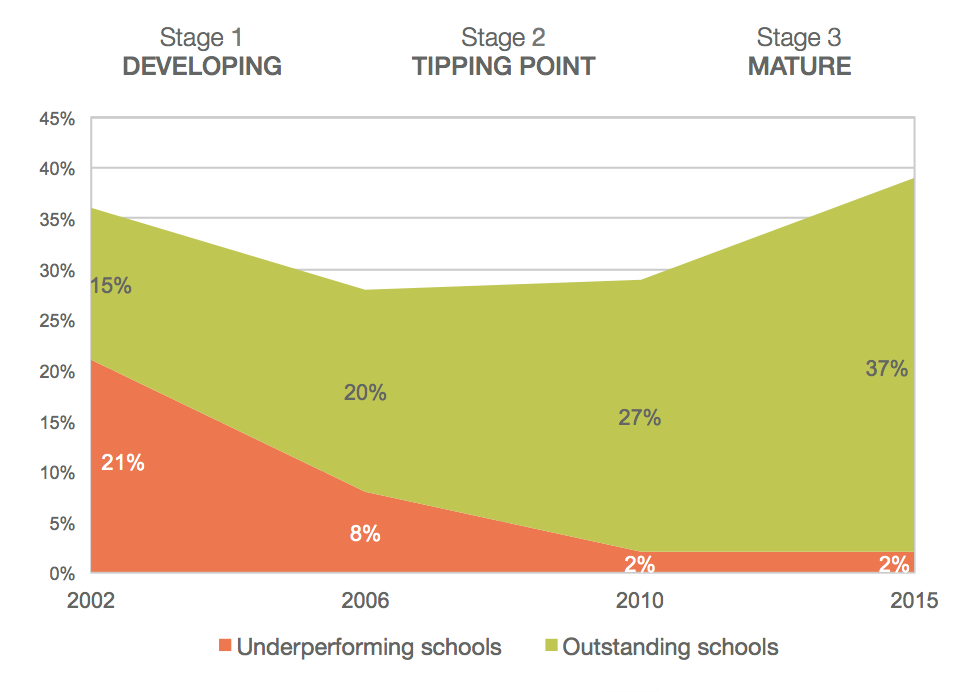 In the early 2000s, London schools had student results that placed them at the bottom of England schools ranking. Less than ten years later, they were at the top of the rankings. They achieved this by focusing on the quality of teaching and learning in each classroom. Since then, London schools have consolidated their position with even better student outcomes.
In 2002, 21 percent of London schools were assessed and rated as "underperforming schools" with low student outcome. At the same time, the proportion of "outstanding schools" with high student results in the capital was only 15 percent. In 2010, the figures were 2 percent underperforming and 27 percent outstanding. In 2015, the ratio was 2 percent and 37 percent.
If students' results are low – then we have a closer look at the teaching
We know what a multicultural city London is and based on the situation we have today in many countries we all understand the dimension of the challenges that London's schools have and have had. Instead of focusing on that, they chose to look at the situation like this: the student results that the schools achieve are low – then we have to look more closely at the quality of teaching for learning.
Lesson observations in all classrooms
One of the first steps in 2003 was to start with all the schools that had been found to be "underperforming" – 40 schools. At these schools, systematic lesson observations were conducted in all classrooms with the same form for the observations. In other words, consistent reference points based on research. Based on the outcomes of the observations, the teachers who were found to deliver high quality teaching were trained to provide support to the teachers who were found to need additional skills development in order to develop important skills. This support was given in the form of a 10-week intensive course.
Collaborative groups with principals
Another measure was to create many smaller groups with school leaders. Each group included both leaders from high performing and underperforming schools. Together they collaborated exchanging experiences and challenged each other to develop their schools with a specific goal on improving the quality of teaching and the coaching of teachers. ***
Concrete and systematic – two examples
More and more schools are putting concrete and systematic focus to the quality of teaching in other countries as well. Click on the links below to read about two examples.
A systematic approach to improve teaching in Ludvika minicipality
A systematic approach at all seven schools in Kunskapsgymnasset
______________________________________
*** Based on the work that started in London in the 2000s, there are today two organisations that continue on the path that was staked out. Interested? Check out these two links:
Challenge Partners
OLEVI International