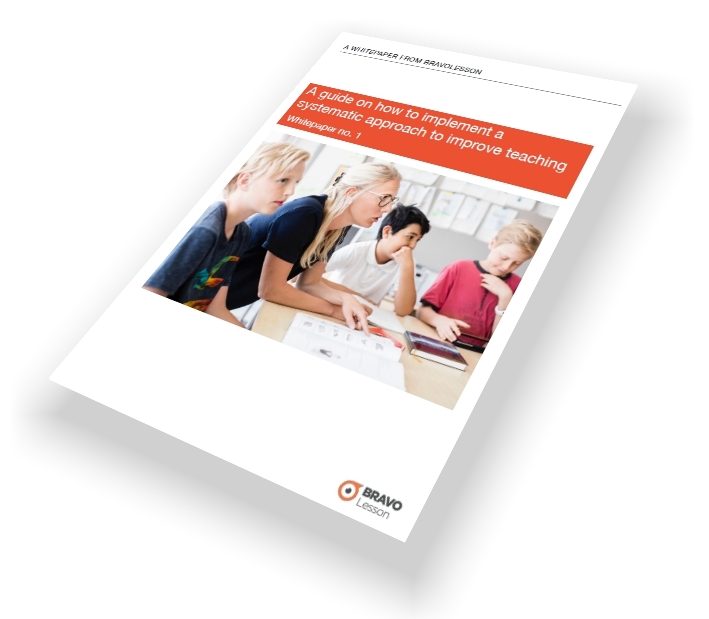 BRAVOLesson blog March 14th 
All pupils and students deserve fantastic teaching 
and all teachers deserve constructive feedback! 
That is the core of school improvement.
 A systematic approach to improve teaching. Our ten part series continues – this is part 3.
Our survey, carried out in Sweden, included questions to 
primary, secondary and upper secondary school teachers. The survey showed that teaching is a lonely profession, with teachers receiving little support or guidance. 
Only every tenth teacher gets feedback on their teaching from a school leader, a colleague or a coach. OECD Statistics indicate that only every fourth teacher gets perspective on their own and their colleagues teaching. ***
This means:
A fantastic opportunity for education and schools!
There are schools already successfully working with a systematic approach already.

This leads to questions like: How do they think and what do they do?  
We wanted to get answers to the these questions and we subsequently organised a conference, "Öppna klassrumsdörrarna" ("Open the classroom doors"), in Stockholm in April 2018. Researchers, experts, experienced school leaders and teachers met to share their experiences. When we reviewed the experiences together with other things that research has shown to be important dimensions of good teaching, we could conclude the following:                                                                                                                             
Their are four + two key challenges for successful implementation of systematic approach:                     
Trust

Time and priorities
Evidence-based systematics 

The quality of the feedback                                                                                         
You also need to:    
Be sure that agreed work will be completed     
Be able to measure progress – the dimensions that have been successful and which still need to be developed                 

Our white paper helps you to tackle these four + two key challenges.

_____________________________
*** Sources:
– Successful Schools Swedens/BRAVOLessons survey via Novus. Konstruktiv feedback kring undervisning. 2016
– How to make a good teacher.  The Economist (June 11th – 17th): 13, 21-24. 2016.
_____________________________
We hope you will follow our series! It will continue until the summer of 2019 with one new part every two weeks. 
Greetings from the BRAVOLesson Team